正文
Step1
首先,我们创建一个目录 udf_test/;
创建子目录org/dennis/udf
在子目录里创建一个MyUpper.java文件。里面内容为:

1

2

3

4

5

6

7

8

9

10

11

12

package org.dennis.udf;

import org.apache.hadoop.hive.ql.exec.UDF;

import org.apache.hadoop.io.Text;

public final class MyUpper extends UDF {

  public Text evaluate(final Text s) {

    if (s == null) { return null; }

    return new Text(s.toString().toUpperCase());

  }

}
Step2
1

2

3

4

javac -cp  \

/opt/cloudera/parcels/CDH-6.2.0-1.cdh6.2.0.p0.967373/jars/hive-exec-2.1.1-cdh6.2.0.jar: \

/opt/cloudera/parcels/CDH-6.2.0-1.cdh6.2.0.p0.967373/jars/hadoop-common-3.0.0-cdh6.2.0.jar \

org/dennis/udf/MyUpper.java
这里我们要把依赖的jar包写进来,这里我们依赖hive-exec*.jar 以及 hadoop-common.jar
javac -cp 的作用

1

2

3

4

5

javac -cp 指明了.java文件里import的类的位置

java -cp 指明了执行这个class文件所需要的所有类的包路径-即系统类加载器的路径(涉及到类加载机制)

路径在linux中用:隔开  在windows中用;隔开
Step3
生成一个jar文件。

1

2

jar -cf myudfs.jar  -C . .

会在当前目录下生成myudfs.jar 文件
Step4
第一种方式
进入Hive命令行

1

2

3

4

5

6

7

hive> add jar myudfs.jar;

Added [myudfs.jar] to class path

Added resources: [myudfs.jar]

hive> create temporary function dennisUpper as 'org.dennis.udf.MyUpper';

OK

Time taken: 0.067 seconds

hive>
搞定!
第二种方式
另外,也可以在Hue上点击 setting后,上传对应的jar文件,然后将对应的function name 和 class name也填一下就OK了。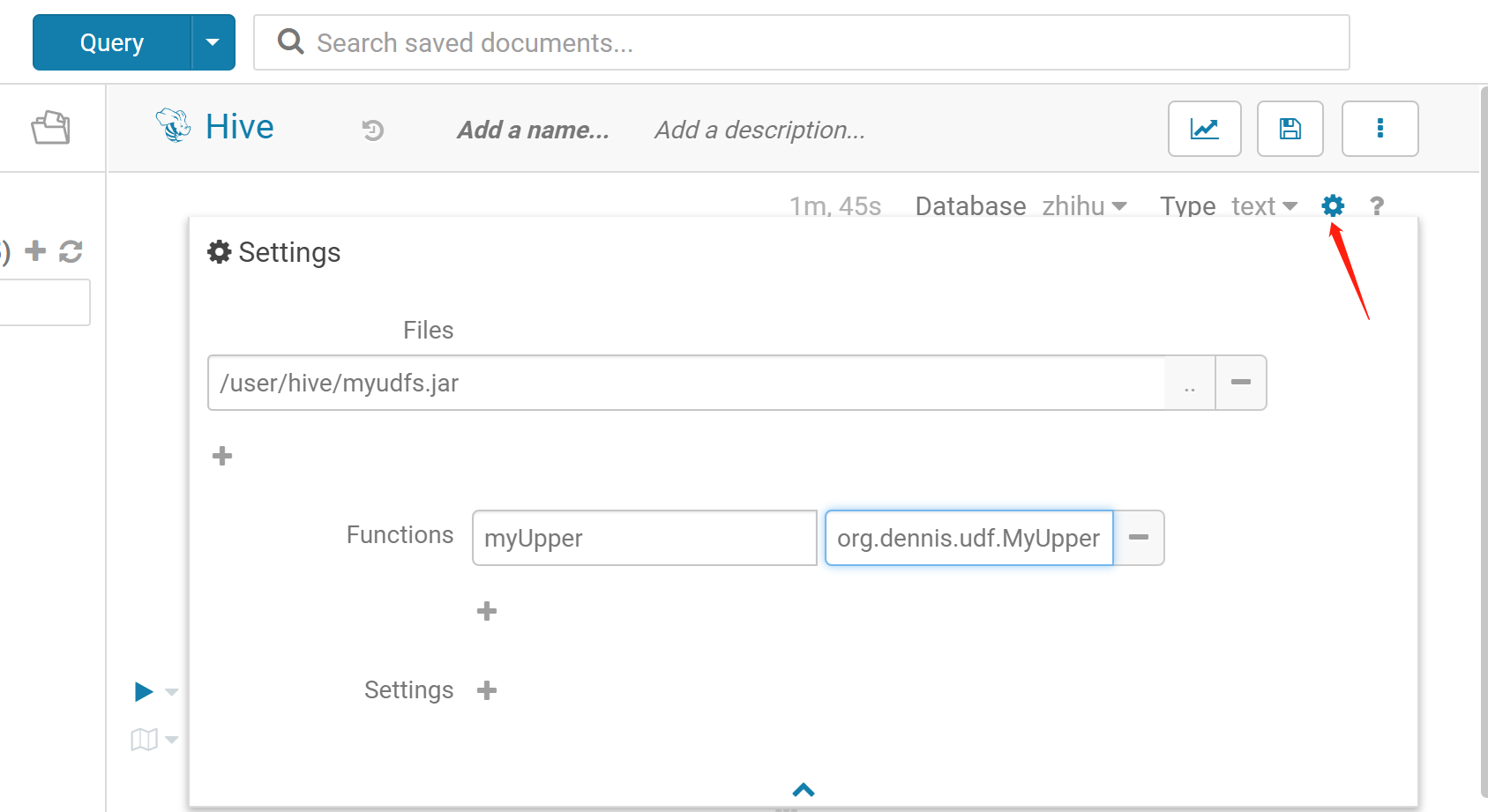 然后再Hue上执行create temporary function dennisUpper as 'org.dennis.udf.MyUpper'; 注册下对应信息。
Step5
执行SQL,检验一下:

| | |
| --- | --- |
| 1 | select dennisUpper(field) from table; |
常见问题
找不到类
有时候我们add jar后,create function时候会出现如下报错:

1

2

3

4

Added resources: [myudfs.jar]

hive> create temporary function dennisUpper as 'org.dennis.udf.MyUpper';

FAILED: Class org.dennis.udf.MyUpper not found

FAILED: Execution Error, return code 1 from org.apache.hadoop.hive.ql.exec.FunctionTask
我们可以解压一下jar包检查下:

1

2

unzip myudf.jar -d check_jar

解压到 check_jar目录
如果有的话,check_dir下应该是有这么一个目录文件:
org/dennis/udf/MyUpper.class
reload更新的jar包
我们更新了UDF,重新打个jar包替换掉原来的。但如果要让它生效需要做一些操作:
added a config in hive-site.xml, then restart the hive server.

1

2

3

4

<property>

    <name>hive.reloadable.aux.jars.path</name>

    <value>/user/hive/udf</value>

</property>

deleted the old jar file in HDFS, and upload the new jar file.

DROP TEMPORARY FUNCTION IF EXISTS isstopword;

in hive console, run list jar; to check the local jar files, it would print something like this:
/tmp/83ce8586-7311-4e97-813f-f2fbcec63a55_resources/isstopwordudf.jar
then delete them in your server file system.
create a temp function again.
create temporary function isstopword as 'org.dennis.udf.IsStopWord';
Reference
http://bdlabs.edureka.co/static/help/topics/cm_mc_hive_udf.html#concept_zb2_rxr_lw_unique_1